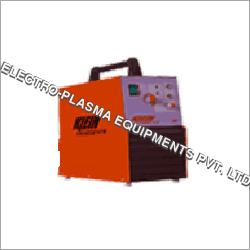 Industrial Inverter Welding Machines
Product Code : KS - 150 TIG
Price And Quantity
Minimum Order Quantity

:

1
Unit of Measure

:

Piece/Pieces
Product Description
Inverter Based Welding Machines
Our industry leading expertise in the domain of cutting and welding machines allows us to offer our clients a comprehensive range of Inverter Welding Machines in India. Our offered range of welding machines finds extensive application in welding and construction industries. We manufacture these machines using top grade raw materials and components, which are obtained from the certified vendors of the market. Known for their efficient performance, these Inverter Welding Machines are available in various technical specifications.
Further Details
One of our most sought after product is the Inverter Based Welding Machines that we design and fabricate from A-grade raw materials and constituents obtained from dependable vendors. Clients can enjoy the range in standard and customized options. In the bespoke range we incorporate inputs provided by clients. High technology used in the Our range is cost effective and timely delivered. We are renowned for offering these within specific time frame.
Setting of post gas timing from 2 second to 20 second
Design to meet highest standard for safety & reliability
Inverter based welding machine saves energy upto 60%.
High quality integrated electronic power source using IGBT technology.
Klein Schweisser 150, 150 TIG Technical Specification
| | | |
| --- | --- | --- |
| Details | Klein Schweisser 150 | Klein Schweisser 150 TIG |
| Input supply | 220 volts A/C, 1 phase 50 HZ | 220 volts A/C, 1 phase, 50 HZ |
| Operating supply voltage range | 190 volts A/C to 250 Volts A/C | 190 Volts A/C to 250 volts A/C |
| Input Power | | |
| At 70 % duty cycle | 3.9 KVA | 3.9 KVA (MMA), 3.1 KVA (Tig) |
| At 100% duty cycle | 3.4 KVA | 3.4 KVA (MMA), 2.3 KVA (Tig) |
| Current Range | 7 AMPS to 150 AMPS | 7 AMPS to 150 AMPS |
| Open circuit Voltage | | |
| At 190 volts I/P | 58 volts DC | 58 volts DC |
| At 220 volts I/P | 66 volts DC | 66 volts DC |
| At 250 volts I/P | 75 volts DC | 75 volts DC |
| Class of insulation | 'H' class | 'H' class |
| Cooling | Forced air cool with FOD sys. | Forced air cooled with FOD sys. |
| Hand welding current | | |
| At 70 % duty cycle | 150 volts Amps DC (MMA) | 150 Amps DC (Tig) |
| At 100% duty cycle | 120 Amps DC (MMA) | 120 Amps. DC (Tig) |
| Dimensions( L. W. H.) | 545 mm. 210 mm. 385 mm. | 545 mm. 210 mm. 440 mm |
| Weight | 20 kg | 28kg |

Klein Schweisser 400, 400 TIG
| | | |
| --- | --- | --- |
| Details | Klein Schweisser 400 | Klein Schweisser 400 TIG |
| Input supply | 415 volts 3 phase 50 HZ | 415 Volts A/C 3 Phase, 50Hz |
| Operating supply voltage range | 370 volts A/C to 460 volts A/C | 370 Volts A/C to 460Volts A/C |
| Input Power | | |
| At 70% duty cycle | 10.5 KVA | 10.5 KVA |
| At 100% duty cycle | 8 KVA | 7.5 KVA |
| Current Range | 7 Amps to 400 Amps | 7Amps to 400Amps |
| Open circuit Voltage | | |
| At 370 volts I/P | 72 volts DC | 72 volts DC |
| At 415 volts I/P | 80 volts DC | 80 volts DC |
| At 460 volts I/P | 90 volts DC | 90 volts DC |
| Class of insulation | 'H' class | 'H' class |
| Cooling | Forced air cooled with FOD sys. | Forced air cooled with FOD sys. |
| Hand welding current | | |
| At 70 % duty cycle | 400 Amps DC(MMA) | 400 Amps (TIG) |
| At 100% duty cycle | 320 Amps DC(MMA) | 300 Amps (TIG) |
| Dimensions (L. W. H) | 785mm. 360mm. 685mm. | 770mm. 300mm. 740mm |
| Weight | 95kg | 80kg |
Klein Schweisser i 160, i 220
| | | |
| --- | --- | --- |
| Model | Klein Schweisser i 160 | Klein Schweisser i 220 |
| Input supply | 220 Volts A/C 1 Phase, 50Hz | 220 Volts A/C 1 Phase, 50Hz |
| Operating supply voltage range | 190 Volts A/C to 250Volts A/C | 190 Volts A/C to 250Volts A/C |
| Input Power | | |
| At 70% duty cycle | 3.8 KVA | 6 KVA |
| At 100% duty cycle | 2.3 KVA | 3.8 KVA |
| Current Range | 7Amps to 160Amps | 7Amps to 220Amps |
| Open circuit Voltage | | |
| At 190 volts I/P | 58 volts DC | 58 volts DC |
| At 220 volts I/P | 66 volts DC | 66 volts DC |
| At 250 volts I/P | 75 volts DC | 75 volts DC |
| Class of insulation | 'H' class | 'H' class |
| Cooling | Forced Air Cooled with FOD sys. | Forced Air Cooled with FOD sys. |
| Hand welding current | | |
| At 70 % duty cycle | 160Amps (MMA) | 220Amps (MMA) |
| At 100% duty cycle | 120Amps (MMA) | 170Amps (MMA) |
| Dimensions (L. W. H) | 490mm. 200mm. 240mm | 550mm. 200mm. 240mm |
| Weight | 12 Kgs. | 15 Kgs. |
Klein Schweisser 400 MMA/MIG/MAG, 400 MIG/MAG
Model
Klein Schweisser 400 MMA/MIG/MAG
Klein Schweisser 400
MIG/MAG
Input supply
415 volts A/C, 3 phase, 50 Hz
415 volts A/C, 3 phase, 50 Hz
Operating supply voltage range
370 volts A/C to 460 volts A/C
370 volts to 460 volts A/C
Current range, MMA
7 amps. DC to 400 amps. DC

-

Current range, Mig
50 Amps. DC to 400 Amps. DC

50 Amps. DC to 400 Amps, DC

Voltage range. Mig
15 volts DC to 36 volts DC
15 volts DC to 36 volts DC
Open Circuit Voltage
At 370 volts I/P
72 volts DC
72 volts DC
At 415 volts I/P
80 volts DC
80 volts DC
At 460 volts I/P
90 volts DC
90 volts DC
Class of insulation
'H' class
'H' class
Cooling
Forced air cool with FOD sys.
Forced air cooled with FOD sys.
Hand welding current
At 70 % duty cycle
400 Amps. DC
400 Amps. DC
At 100% duty cycle
320 Amps. DC
320 Amps. DC
Dimensions (L. W. H.)
860mm. 410mm. 880 mm.
860mm. 410mm. 880 mm.
Weight
145 kg.
145 kg.
Input Power, MMA
At 70% duty cycle
10.5 KVA
At 100% duty cycle
6.9 KVA
Contact Us
Unit No. 104, 1st Floor, Acme Industrial Park, W.E. Highway, Off. I.B. Patel Road, Goregaon (E), Mumbai, Maharashtra, 400063, India
Phone :91-22-40203456/26865065/26862843/26862893